! THIS ADDS THE ICON TO THE BAR & FAVORITES >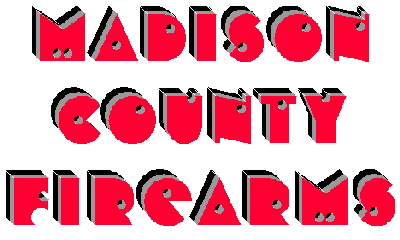 1015 County Road NW, Huntsville, AL 35801
(Also home of Smith Store It - Self Storage)
(256) 539-5164

<! ==============two logos either side of body of text====================>


Located in North Alabama in the City of Huntsville, Madison County Firearms © can serve the needs of the shooting community. We have a FFL license. Doing business on the internet through gun Auctions such as GunBroker.com © and other internet sites, you can have guns sent to your favorite FFL dealer. Or if listed on Gun Broker and you are local, buy direct from the store at 1015 County Road NW near the Parkway and Pratt Avenue.
FFL TRANSFER: If you buy a gun out of Huntsville and want it shipped here and transferred to you via my FFL license, I am happy to do that for you at a discount fee of just $35.00 Click for details of FFL transfer and how it works.
LET ME SELL YOUR GUNS FOR YOU ON CONSIGNMENT. I take all the photos, do write up, research, and web programming for Gun Broker and other on-line sales companies and complete the transaction and ship to an FFL for you. You get the proceeds and don't have to do a thing. Click on this link for the "Consignment Form" which includes all the details and you can print it out before you bring firearms to me to sell for you. Commission is 20% of gun sale price or $75, whichever is higher.
I don't have an on-line catalog of every gun I can get for you, but I can get almost any gun item you can want almost immediately and have it shipped to your FFL as soon as you send the funds. I do have a listing for some items in stock and prices on Gun Broker at this link, MadCoFirearms.com GunBroker listings. so please check them out. Any item you see there can be sold directly to you in the Huntsville store (and you save shipping). Of course, any item I order for you can be picked up in person also. For handguns, you must be a state resident.
We do accept Credit Cards for 3% added. Thanks for visiting the web site and be sure to check out my reloading site of 17 years, www.reloadammo.com and browse around. I have been a gun collector, shooting sports enthusiast and reloader of my own ammunition for over 30 years. You won't find anyone better qualified to advise you on guns, ammo and any question you may have.
If you want to check a FFL license number to verify the address or other info, there is a link you can get that information. It's ATF On-Line at https://www.atfonline.gov/fflezcheck/
If you are buying a firearm from me on Gunbroker © or other internet auction site, here are my Terms and Conditions that you should read. It's the "Fine Print" that always has to apply. <!====== [ START This chunk of code adds the National Bureau Standard Time Clock to page =============> <!==========[ END of code for the National Bureau Standard Time Clock to page =============>
Feel free to email me since I can reply sooner than any other way. mdsmith at HiWAAY.net

Best regards,
M.D. Smith
---

LINKS to many other shooting related pages Over 300+ Alphabetically.
<!==============[ UPDATE THE WEB PAGE HERE ]=========> <!Change font color to Red for date and back again> [ update of January 28, 2013 ]

---
© 2012



Webmaster: M.D. Smith mdsmith at HiWAAY.net
Internet Hosting Provided by: